LEARN SPANISH
ONLINE
ABOUT ME
My name's Sonia and I'm a multilingual teacher. I speak Polish, English, Spanish, Portuguese and French.
I specialize in teaching Spanish to English and Polish speakers. I live in Madrid and offer online Spanish courses for adults.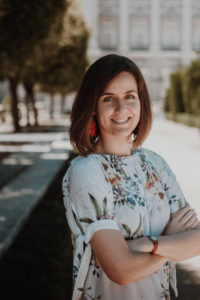 MY SERVICES
I offer the following types of online classes for adults:
GENERAL LANGUAGE
In this course you practice all 4 language skills: speaking, listening, writing and reading.
CONVERSATION
In this course you practice speaking and listening. You can choose the topics you would like to talk about.
INDIVIDUAL CLASSES
This kind of course usually follows a syllabus, but can be adjusted according to the student's needs.
GROUP CLASSES
This kind of course follows a specific syllabus, depending on the level.
WHY CHOOSE SONIA LINGUIST?
I recommend having classes with me not only because of my knowledge, qualifications and teaching experience, but also because of my experience as a student. I started learning my first foreign language, English, at the age of 4. Currently, I speak 4 foreign languages, so I've already walked the same path that my students are walking. It allows me to understand the challenges they face and share the learning strategies and tricks that have proven successful in my learning process.
My knowledge of foreign languages enables me to compare some grammar structures or pronunciation of certain sounds if the student already knows another foreign language. This way they can take advantage of the knowledge acquired before. What's more, it speeds up their learning process.
In my work as a teacher I use the insight gained while living in Spain and the UK and travelling around Latin America- thanks to this experience I'm able to give a taste of their culture and colloquial language in class.